Peanut Allergy Pipeline Insight By DelveInsight

(Albany, US) DelveInsight has launched a new report on Peanut Allergy Pipeline
"Peanut Allergy Pipeline Insight, 2020" report by DelveInsight outlays comprehensive insights of present clinical development scenario and growth prospects across the Peanut Allergy market. A detailed picture of the Peanut Allergy pipeline landscape is provided, which includes the disease overview and Peanut Allergy treatment guidelines. The assessment part of the report embraces in-depth Peanut Allergy commercial assessment and clinical assessment of the Peanut Allergy pipeline products from the pre-clinical developmental phase to the marketed phase. In the report, a detailed description of the drug is proffered including mechanism of action of the drug, clinical studies, NDA approvals (if any), and product development activities comprising the technology, Peanut Allergy collaborations, licensing, mergers and acquisition, funding, designations, and other product-related details.
Peanut Allergy is an abnormal response to a food triggered by the body's immune system. There are several types of immune response to food. A peanut allergy is an allergic reaction to peanuts which occurs when the human body mistakenly identifies peanuts as harmful substances. Peanut allergy is recognized as one of the most severe food allergies due to its prevalence, persistency, and the potential severity of the allergic reaction. Although other food allergies occurring in childhood usually resolve spontaneously with age, peanut sensitivity appears early in life and often persists indefinitely. Frequently, large quantities of peanut allergens are not needed to elicit an allergic reaction- even trace levels of peanut are capable of causing a hypersensitive reaction.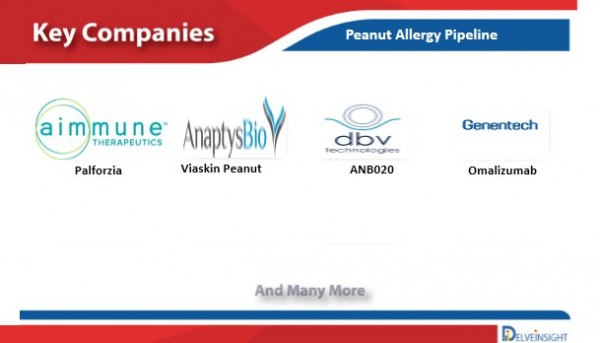 Request for free sample page: – https://www.delveinsight.com/sample-request/peanut-allergy-pipeline-insight
Peanut Allergy Pipeline development activities
The report provides insights into:
All of the companies that are developing therapies for the treatment of Peanut Allergy with aggregate therapies developed by each company for the same.
Different therapeutic candidates segmented into early-stage, mid-stage and late stage of development for the Peanut Allergy treatment.
Peanut Allergy key players involved in targeted therapeutics development with respective active and inactive (dormant or discontinued) projects.
Drugs under development based on the stage of development, route of administration, target receptor, monotherapy or combination therapy, a different mechanism of action, and molecular type.
Detailed analysis of collaborations (company-company collaborations and company-academia collaborations), licensing agreement and financing details for future advancement of Peanut Allergy market.
The report is built using data and information traced from the researcher's proprietary databases, company/university websites, clinical trial registries, conferences, SEC filings, investor presentations, and featured press releases from company/university web sites and industry-specific third-party sources, etc.
Peanut Allergy Pipeline
The overall dynamics of the Peanut Allergy market is anticipated to change in the coming years owing to the expected launch of emerging therapies. DBV Technologies, AnaptysBio, Roche, Regeneron Pharmaceuticals, Prota Therapeutics, Camallergy, HAL Allergy B.V., and others are also developing treatments for Peanut allergies.
Viaskin Peanut (DBV Technologies) is developed by using proprietary Viaskin Peanut technology platform, which delivers biologically active compounds, including allergens, via intact skin. Therefore, it administers an allergen directly onto the superficial layers of the skin to activate the immune system by specifically targeting antigen-presenting cells without allowing passage of the antigen into the bloodstream. US FDA granted Breakthrough Therapy Designation to Viaskin Peanut for children, after DBV reported positive Phase IIb results with Viaskin Peanut. Moreover, In February 2012, it has also received Fast Track Designation.
Additionally, USFDA has also accepted the BLA for Viaskin Peanut skin path for the treatment of peanut-allergic children aged 4 to 11 years, with the target action date anticipated being August 2020. However, recently US FDA issued a complete response letter for Viaskin Peanut indicating FDA cannot approve the application in present form and need more supplementary clinical data to support the modified patch.
ANB020 (AnaptysBio) is an anti- Interleukin-33 (IL-33) monoclonal antibody for the treatment of moderate-to-severe adult Atopic Dermatitis, severe adult Peanut Allergy and severe adult Eosinophilic Asthma. The therapeutic candidate is a potent inhibitor of interleukin-33 (IL-33), a pro-inflammatory cytokine that is a central mediator of atopic diseases, including atopic dermatitis, food allergies, and asthma. ANB020 inhibits the function of IL-33 and acts upstream of IL-4, IL-5, and IL-13. The company believes that this inhibitory mechanism has potential advantages in human therapy over agents that block only a subset of the cytokines responsible for atopic diseases. ANB020 has been tested in Phase I in healthy volunteers where it has demonstrated a favorable safety profile. AnaptysBio emerges from the proof-of-concept trial data that is currently under phase II clinical trial for moderate-to-severe adult peanut allergy.
Marketed drug included in the report
Palforzia: Aimmune Therapeutics
Emerging drugs included in the report
Viaskin Peanut: DBV Technologies
ANB020: AnaptysBio
Omalizumab: Genentech
Peanut Allergy Report Scope
The Peanut Allergy report provides an overview of therapeutic pipeline activity and therapeutic assessment of the products by development stage, product type, route of administration, molecule type, and MOA type for Peanut Allergy across the complete product development cycle, including all clinical and nonclinical stages.
It comprises of detailed profiles of Peanut Allergy therapeutic products with key coverage of developmental activities, including technology, collaborations, licensing, mergers and acquisition, funding, designations and other product-related details
Detailed Peanut Allergy research and development progress and trial details, results wherever available, are also included in the pipeline study.
Coverage of dormant and discontinued pipeline projects along with the reasons if available across Peanut Allergy.
Download free sample page: – https://www.delveinsight.com/sample-request/peanut-allergy-pipeline-insight
Table of content
1. Report Introduction
2. Peanut Allergy
3. Peanut Allergy Current Treatment Patterns
4. Peanut Allergy – DelveInsight's Analytical Perspective
5. Therapeutic Assessment
6. Peanut Allergy Late Stage Products (Phase-III)
7. Peanut Allergy Mid Stage Products (Phase-II)
8. Early Stage Products (Phase-I)
9. Pre-clinical Products and Discovery Stage Products
10. Inactive Products
11. Dormant Products
12. Peanut Allergy Discontinued Products
13. Peanut Allergy Product Profiles
14. Peanut Allergy Key Companies
15. Peanut Allergy Key Products
16. Dormant and Discontinued Products
17. Peanut Allergy Unmet Needs
18. Peanut Allergy Future Perspectives
19. Peanut Allergy Analyst Review
20. Appendix
21. Report Methodology
About Us
DelveInsight is a Business Consulting and Market research company, providing expert business solutions for life science vertical and offering quintessential advisory services in the areas of R&D, Strategy Formulation, Operations, Competitive Intelligence, Competitive Landscaping, and Mergers & Acquisitions
Contact Us
Shruti Thakur
+91-9650213330
Media Contact
Company Name: DelveInsight Business Research LLP
Contact Person: Yash Bhardwaj
Email: Send Email
Phone: +919650213330
Address:304 S. Jones Blvd #2432
City: Las Vegas
State: NV
Country: United States
Website: https://www.delveinsight.com/