Hereditary Angioedema Market Analysis, Leading Companies, Emerging Drugs and Epidemiology Forecast
DelveInsight's "Hereditary Angioedema Market Insights, Epidemiology, and Market Forecast 2030" report delivers an in-depth understanding of the Hereditary Angioedema, historical and forecasted epidemiology as well as the Hereditary Angioedema market trends in the United States, EU5 (Germany, Spain, Italy, France, and United Kingdom) and Japan.
Hereditary Angioedema (HAE) is a rare genetic disorder caused by the deficiency in functional C1 inhibitor (C1INH) that results in recurrent attacks of localized subcutaneous or mucosal edema, most commonly affecting the skin, intestines, upper respiratory tract, and oropharynx
HAE is a heterogeneous disease with complex pathophysiology that involves several pathways resulting in the increased production of bradykinin with mutations of multiple molecules in genetic etiology. These could include the Kallikrein gene mutations; Bradykinin gene or its receptor mutations; Kininase 1 gene mutations and loss of function and mutations in gene encoding aminopeptidase and ACE enzymes.
It is classified into three types based on genetic defects such as type I HAE with low levels of C1-INH in the body, type II with poorly functioning C1-INH, or the recently identified types of HAE with normal functioning C1-INH (formerly known as type III HAE). Identification of the novel polymorphisms in several genes leading to modification in the clinical phenotype of HAE is a relatively recent phenomenon. The clinical features of HAE are recurrent and unpredictable spontaneous edema attacks. Traumas, infections, stress, or medical procedures are potential triggers for HAE attacks, and occasionally, angioedema could be associated with prodromal signs, including erythema marginatum.
Get FREE sample copy at:
https://www.delveinsight.com/sample-request/hereditary-angioedema-market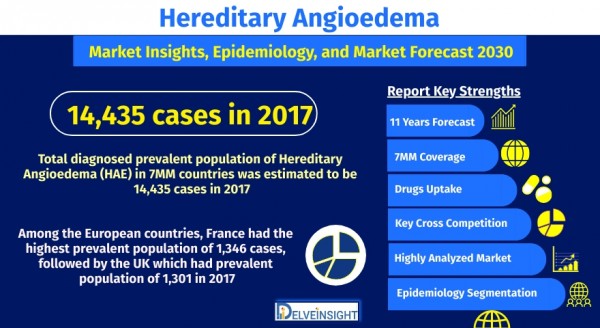 The Hereditary Angioedema market report also covers emerging drugs, current treatment practices, Hereditary Angioedema market share of the individual therapies, current and forecasted Hereditary Angioedema Market Size from 2017 to 2030 segmented by seven major markets.
The report provides a detailed current Hereditary Angioedema treatment practice/algorithm, market drivers, market barriers and unmet medical needs to curate best of the opportunities and assesses the underlying potential of the market.
Hereditary Angioedema Market Key Facts
Total diagnosed prevalent population of Hereditary Angioedema (HAE) in 7MM countries was estimated to be 14,435 cases in 2017.
Among the European countries, France had the highest prevalent population of 1,346 cases, followed by the UK which had prevalent population of 1,301 in 2017.
HAE in the US has been observed with the maximum number of diagnosed cases in the age-group 17 to below 65 years, followed by those who belong to the age-group 12 to less than 17 years.
Among the European 5 countries, Spain had the lowest prevalent population with 537 cases in 2017.
Key Benefits of Hereditary Angioedema Market Report
Hereditary Angioedema market report provides an in-depth analysis of Hereditary Angioedema Market Size, Share, Trend, Epidemiology and Market Forecast till 2030, in 7 major market i.e. EU5 (Germany, Italy, Spain, France and the UK), Japan, and the United States.

The Hereditary Angioedema market report will help in developing business strategies by understanding the Hereditary Angioedema Market trends & developments, key players and future market competition that will shape and drive the Hereditary Angioedema market in the upcoming years.

The Hereditary Angioedema market report covers Hereditary Angioedema current treatment practices, emerging drugs, market share of the individual therapies in 7 MM.

The report provides a detailed assessment of the Hereditary Angioedema market in terms of market drivers & barriers, Unmet Needs, market opportunities, patient population, comparative analysis of pipeline products with detailed clinical profiles, and other factors.
The landscape of therapeutic options for patients with HAE has changed dramatically in the last two decades. Ongoing research promises even greater change in the foreseeable future. Given the economic and psychosocial burdens for patients living with angioedema, effective therapies with novel mechanisms will offer more choices for patients and physicians, as well as provide greater flexibility in routes of administration. Owing to the launch of upcoming therapies, market size shall increase during forecast period (2017-2030).
The Hereditary Angioedema market outlook section of the report helps to build the detailed comprehension of the historic, current and forecasted Hereditary Angioedema market trends by analyzing the impact of current therapies on the market, unmet needs, drivers and barriers and demand for better technology.
The report gives a thorough detail of Hereditary Angioedema market trend of each marketed drug and late-stage pipeline therapy by evaluating their impact based on the annual cost of therapy, inclusion and exclusion criteria, mechanism of action, increasing patient pool, covered patient segment, expected launch year, competition with other therapies, and view of the key opinion leaders.
Hereditary Angioedema Epidemiology
The Hereditary Angioedema epidemiology section covers insights about historical and current Hereditary Angioedema patient pool and forecasted trends for every seven major countries (i.e. the United States, EU5 countries (Germany, Spain, Italy, France, and the United Kingdom), and Japan from 2017 to 2030.
It helps to recognize the causes of current and forecasted trends by exploring numerous studies and views of key opinion leaders. The epidemiology section also provides the diagnosed patient pool and their trends along with assumptions undertaken.
Hereditary Angioedema Drugs Uptake and Key Market Players
The Hereditary Angioedema Drugs Uptake section focuses on the rate of uptake of the potential drugs recently launched in the Hereditary Angioedema market or expected to get launched in the market during the study period. The analysis covers Hereditary Angioedema market uptake by drugs; patient uptake by therapies; and sales of each drug.
Report's Drugs Uptake section helps in understanding the drugs with the most rapid uptake, reasons behind the maximal use of new drugs and allow the comparison of the drugs on the basis of market share and size which again will be useful in investigating factors important in market uptake and in making financial and regulatory decisions.
Companies are focusing on executing a successful launch that meets the urgent demand for a once-daily oral therapy that will allow HAE patients to live a more normal life. An orally delivered, small molecule offers the opportunity to improve treatment for the disease by making it more convenient for patients to take therapies
Some of the key players in the Hereditary Angioedema Market includes:
BioCryst Pharmaceuticals
Ionis Pharmaceuticals
KalVista Pharmaceuticals
CSL Behring
Takeda
Shire
Pharming Group
And many others.
Drugs Covered
BCX7353
IONIS-PKK-LRx
KVD900
CSL312
And many others.
Table of Content
1. Key Insights
2. Executive Summary
3. Hereditary Angioedema Competitive Intelligence Analysis
4. Hereditary Angioedema Market Overview at a Glance
5. Hereditary Angioedema Disease Background and Overview
6. Hereditary Angioedema Patient Journey
7. Hereditary Angioedema Epidemiology and Patient Population
8. Hereditary Angioedema Treatment Algorithm, Current Treatment, and Medical Practices
9. Hereditary Angioedema Unmet Needs
10. Key Endpoints of Hereditary Angioedema Treatment
11. Hereditary Angioedema Marketed Products
12. Hereditary Angioedema Emerging Therapies
13. Hereditary Angioedema Seven Major Market Analysis
14. Attribute Analysis
15. Hereditary Angioedema Market Outlook (7 major markets)
16. Hereditary Angioedema Access and Reimbursement Overview
17. KOL Views on the Hereditary Angioedema Market.
18. Hereditary Angioedema Market Drivers
19. Hereditary Angioedema Market Barriers
20. Appendix
21. DelveInsight Capabilities
22. Disclaimer
Related Reports
Hereditary Angioedema Epidemiology Forecast to 2030
DelveInsight's Hereditary Angioedema Epidemiology Forecast 2030 report delivers an in-depth understanding of the disease, historical, and forecasted epidemiology of Hereditary Angioedema in the United States, EU5 (Germany, France, Italy, Spain, and the United Kingdom), and Japan.
Hereditary Angioedema Pipeline Insights, 2020
Hereditary Angioedema Pipeline Insight, 2020 report by DelveInsight outlays comprehensive insights of present clinical development scenario and growth prospects across the Hereditary Angioedema market.
About DelveInsight
DelveInsight is a leading Business Consultant, and Market Research Firm focused exclusively on life sciences. It supports pharma companies by providing end to end comprehensive solutions to improve their performance.
Media Contact
Company Name: DelveInsight Business Research LLP
Contact Person: Anuj Rawat
Email: Send Email
Phone: +919650213330
Address:304 S. Jones Blvd #2432
City: Las Vegas
State: NV
Country: United States
Website: https://www.delveinsight.com/