Thrombocytopenia Market is Projected to Grow During the Forecast Period 2022-2032 – Estimates DelveInsight | Key Companies – Novartis, Zenyaku Kogyo, UCB Biopharma, Principia Biopharma, Baxalta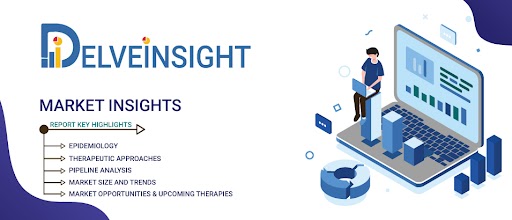 Thrombocytopenia Treatment Market is expected to experience robust expansion due to the rise in patient pool and availability of products.
DelveInsight's "Thrombocytopenia Market" report provides a thorough comprehension of the Thrombocytopenia, historical and forecasted epidemiology, and the Thrombocytopenia market trends in the 7MM [the United States, EU5 (Germany, Spain, Italy, France, and United Kingdom) and Japan]. The Thrombocytopenia market report also proffers an analysis of recent Thrombocytopenia treatment practice/algorithm, market drivers, market barriers, and unmet medical needs.
Some of the vital points from the Thrombocytopenia Market Research Report
TThe Thrombocytopenia market size in the 7MM was observed to be USD 4,412 million in 2021 and is expected to grow with a significant CAGR during the forecasted period (2022)
In 2021, the total cases of Thrombocytopenia in the 7MM countries were 2,608,095, and these cases are anticipated to increase during the study period (2019-32)
Thrombocytopenia Market players such as Sanofi, Rigel Pharmaceuticals, Kissei Pharmaceutical, Sobi, Shionogi & Co., Ltd., Amgen, Novartis, Zenyaku Kogyo, UCB Biopharma, Principia Biopharma, Baxalta, Takeda, Argenx, GC Pharma, Omeros Corporation, Biotest, Millennium Pharmaceuticals, Cellphire, Momenta Pharmaceuticals, ILTOO Pharma, Genosco, and several others are involved in developing Thrombocytopenia therapies.
Thrombocytopenia market might experience significant growth due to the expected launch of upcoming therapies such as Rozanolixizumab (UCB7665); Rilzabrutinib (PRN-1008); BAX930; Efgartigimod (ARGX-113); Cablivi (caplacizumab); Tavalisse/Tavlesse (Fostamatinib); Doptelet (Avatrombopag); Nplate (Romiplostim); and Mulpleta (lusutrombopag), and others.
For additional information on Market Impact by Therapies, visit: Thrombocytopenia Therapeutics Market Analysis
Thrombocytopenia is a condition in which the blood has a lower than a normal number of platelets. The condition can be inherited or acquired. Thrombocytopenia causes, sometimes, are not known. The main Thrombocytopenia symptoms include mild-to-severe bleeding. Bleeding can occur inside the body or underneath the skin, or from the skin's surface. As per DelveInsight's analysts, the total number of Thrombocytopenia cases in the 7MM was 1,653,934 in 2020. The Thrombocytopenia cases are expected to increase throughout the study period of 20192032 with a decent CAGR.
The Thrombocytopenia Market Report provides historical as well as forecasted epidemiological analysis segmented into:
Prevalent Cases of Thrombotic Thrombocytopenic Purpura (TTP)
Prevalent Cases of Immune Thrombocytopenia (ITP)
Prevalent Cases of Thrombocytopenia in Chronic Liver Disease
Incident Cases of Chemotherapy-induced Thrombocytopenia
Number of Cases of Heparin-induced Thrombocytopenia
Total Cases of Thrombocytopenia
Thrombocytopenia Emerging Therapies Along with Key Players
Thrombocytopenia pipeline possesses potential drugs in mid-stage developments to be approved soon. The major key players enumerated below can create a significant positive shift in Thrombocytopenia market size.
Rozanolixizumab (UCB7665): UCB Biopharma
Rilzabrutinib (PRN-1008): Principia Biopharma
TAK-755 (BAX930/SHP655): Baxalta/Takeda
Efgartigimod (ARGX-113): Argenx
GC5101B (GC5107A, IV-Globulin SN Inj. 10%): GC Pharma
Narsoplimab (OMS721): Omeros Corporation
BT-595: Biotest
TAK-079: Millennium Pharmaceuticals/Takeda
Thrombosomes: Cellphire
M254 (Hypersialylated IgG): Momenta Pharmaceuticals
BIVV020: Sanofi
Interleukin 2: ILTOO Pharma
SKI-O-703: Genosco (Subsidiary of Oscotec), And others.
Thrombocytopenia Market Drivers
More efficacious therapies
Increase in Thrombocytopenia cases High chances of drug approvals
Increase in patient compliance
Robust pipeline
Thrombocytopenia Market Barriers
Economic burden
Low disease awareness and delay in diagnosis
Complications associated with current therapies
Scope of the Thrombocytopenia Market Insight
Geography Covered: 7MM – The United States, EU5 (Germany, France, Italy, Spain, and the United Kingdom), Japan.
Thrombocytopenia Markets Segmentation: By Geographies and By Thrombocytopenia Therapies (Historical and Forecasted, Current and Upcoming)
Leading Thrombocytopenia Market Companies investigating its candidates for Thrombocytopenia: Sanofi, Rigel Pharmaceuticals, Kissei Pharmaceutical, Sobi, Shionogi & Co., Ltd., Amgen, Novartis, Zenyaku Kogyo, UCB Biopharma, Principia Biopharma, Baxalta, Takeda, Argenx, GC Pharma, Omeros Corporation, Biotest, Millennium Pharmaceuticals, Cellphire, Momenta Pharmaceuticals, ILTOO Pharma, Genosco, and several others.
Thrombocytopenia Market Analysis: Comparative and conjoint analysis of emerging therapies, Attribute Analysis, Case Studies, KOL's Views, Analyst's View
Request for a Webex demo of the report @ Thrombocytopenia Market Size Analysis
Table of Contents
| | |
| --- | --- |
| 1 | Key Insights on Thrombocytopenia |
| 2 | Executive Summary of Thrombocytopenia |
| 3 | Thrombocytopenia Market Overview at a Glance |
| 4 | Disease Background and Overview: Thrombocytopenia |
| 5 | Thrombocytopenia Patient Journey |
| 6 | Thrombocytopenia Epidemiology and Patient Population |
| 6.1 | United States Epidemiology |
| 6.2 | EU5 Countries Epidemiology |
| 6.2.1 | Germany |
| 6.2.2 | France |
| 6.2.3 | Italy |
| 6.2.4 | Spain |
| 6.2.5 | United Kingdom |
| 6.3 | Japan Epidemiology |
| 7 | Thrombocytopenia Treatment |
| 8 | Thrombocytopenia Unmet Needs |
| 9 | Thrombocytopenia Marketed Drugs |
| 9.1 | Cablivi (Caplacizumab/ALX-0081): Sanofi (Ablynx) |
| 9.2 | Tavalisse (Fostamatinib): Rigel Pharmaceuticals/Kissei Pharmaceutical |
| 9.3 | Doptelet (Avatrombopag): Sobi (Dova Pharmaceuticals) |
| 9.4 | Mulpleta/Mulpleo (Lusutrombopag): Shionogi & Co., Ltd. |
| 9.5 | Nplate (Romiplostim, AMG-531): Amgen |
| 9.6 | Promacta (eltrombopag): Novartis |
| 9.7 | Rituxan (rituximab): Zenyaku Kogyo |
| 10 | Thrombocytopenia Emerging Drugs |
| 10.1 | Key Cross Competition |
| 10.2 | Rozanolixizumab (UCB7665): UCB Biopharma |
| 10.3 | Rilzabrutinib (PRN-1008): Principia Biopharma |
| 10.4 | TAK-755 (BAX930/SHP655): Baxalta/Takeda |
| 10.5 | Efgartigimod (ARGX-113): Argenx |
| 10.6 | GC5101B (GC5107A, IV-Globulin SN Inj. 10%): GC Pharma |
| 10.7 | Narsoplimab (OMS721): Omeros Corporation |
| 10.8 | BT-595: Biotest |
| 10.9 | TAK-079: Millennium Pharmaceuticals/Takeda |
| 10.10 | Thrombosomes: Cellphire |
| 10.11 | M254 (Hypersialylated IgG): Momenta Pharmaceuticals |
| 10.12 | BIVV020: Sanofi |
| 10.13 | Interleukin 2: ILTOO Pharma |
| 10.14 | SKI-O-703: Genosco (Subsidiary of Oscotec) |
| 11 | 7MM Thrombocytopenia Market Analysis |
| 12 | United States Thrombocytopenia Market Outlook |
| 13 | EU-5 Thrombocytopenia Market Outlook |
| 13.1 | Germany Market Size |
| 13.2 | France Market Size |
| 13.3 | Italy Market Size |
| 13.4 | Spain Market Size |
| 13.5 | United Kingdom Market Size |
| 14 | Japan Thrombocytopenia Market Outlook |
| 15 | Thrombocytopenia Market Drivers |
| 16 | Thrombocytopenia Market Barriers |
| 17 | SWOT Analysis |
| 18 | Reimbursement and Thrombocytopenia Market Access |
| 19 | Appendix |
| 20 | DelveInsight Capabilities |
| 21 | Disclaimer |
| 22 | About DelveInsight |
Browse detailed TOC with charts, figures, tables @ Thrombocytopenia Market Size Report
Media Contact
Company Name: DelveInsight Business Research LLP
Contact Person: Gaurav Bora
Email: Send Email
Phone: 9193216187
Address:304 S. Jones Blvd #2432
City: Las Vegas
State: Nevada
Country: United States
Website: https://www.delveinsight.com/