Mom of 10 releases commemorative edition children's book to celebrate the historic overturn of Roe v Wade
Elizabeth Johnston is the author of Little Lives Matter (Commemorative Edition).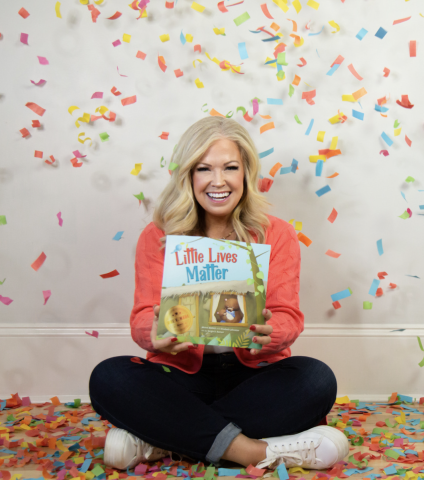 Elizabeth Johnston, the homeschooling mother of 10 children who rose to popularity on social media while fighting Drag Queen Story Hours, Teen Vogue, radical sex education, and abortion, is today known as a passionate force for family, faith, and freedom – and she's out with a commemorative edition of her pro-life children's book to celebrate the overturn of Roe vs. Wade.
With the approaching 50th anniversary of Roe vs. Wade on Jan 22, Elizabeth is celebrating the June SCOTUS decision to overturn 5 decades of what she calls "one of the most barbaric, exploitative, and anti-woman industries of our lifetime."
In "Little Lives Matter" — a children's book published by Brave Books, — she's "instilling in this generation of children," she said, "a respect for human life which has been lost in recent decades thanks to the normalization of abortion."
Elizabeth's pro-life book is part of a series by Brave Books that tackles topics such as gender confusion, socialism, and cancel culture, in an age appropriate manner.
As the mom who took on public schools through the grassroots movement Sex Ed Sit Out and toppled Teen Vogue for teaching obscene sex acts to children, Johnston who has 1 million followers on social media laments, "We caught one public school district in Indiana teaching kids how to take the bus route to abortion clinics, so the need to teach our kids respect for human life has never been more urgent."
"It's not enough to overturn Roe v Wade; we must create a culture of life that profoundly impacts the hearts and minds of future generations," says the mother and author of "Little Lives Matter."
The book takes readers on a journey with Mother Bear and her beloved son, Mobi. In the face of her son's disability, a missing front paw, Mother Bear won't give up, even when the villain, Culture the Vulture, offers her an easier life.
Elizabeth can speak with conviction and authority and is no stranger to the media, having been featured on mainstream and religious networks globally for her activism for faith, family and freedom.
As a passionate mother of 10 children, Elizabeth Johnston can guide the audience to understand the importance of discussing the life issue and other hard topics with their children.
Little Lives Matter (Commemorative Edition) is available at: http://littlelivesbook.com
Contact Elizabeth Johnston at: [email protected]
Note to Media: Elizabeth Johnston is available for interviews. To arrange an interview, email [email protected] or Phone: 740-973-0542
Media Kit: https://elizabethjohnston.org/wp-content/uploads/Elizabeth-Johnston-Media-Kit.pdf
Media Contact
Company Name: Elizabeth Johnston Ministries
Contact Person: Charity
Email: Send Email
City: Charlotte
State: North Carolina
Country: United States
Website: elizabethjohnston.org