Dezerv brings onboard industry veteran Chirag Gandhi as Head of Business to scale its operations
The strategic leadership hiring and its new office in New Delhi comes at a time when the startup has touched INR 1400+ Cr in invested assets
Dezerv, India's fastest growing investment management platform, announced the joining of Chirag Gandhi, a former Managing Director- SA at Julius Baer to lead its business function. With more than 17 years of expertise in the field of wealth management with companies like IIFL, Deutsche Bank among others, he is geared to accelerate the startup's growth trajectory further.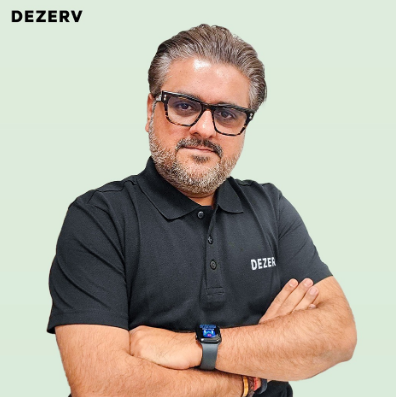 Having spent most of his professional life in the industry, he realized the traditional way of investing needs to be disrupted. Our portfolios need to keep up with the rapid pace at which the economic factors are evolving. It is not possible for one person to single-handedly manage a portfolio, we need a team of domain experts to build advanced investing strategies and actively manage them. And this idea perfectly coincided with Dezerv's approach to portfolio management.
In his role at Dezerv, Chirag will work closely with the co-founders to focus on expanding the client base, providing differentiated investment opportunities, and scaling the business across the country.
Sandeep Jethwani, Co-founder of Dezerv said, "We are thrilled to have Chirag onboard as we embark on this exciting stage of growth. Chirag's entrepreneurial spirit and passion makes him the perfect individual to set the tone for everything great that is in store for us. His innovative approach and commitment to delivering value to his clients further strengthens our belief in him. We welcome him on this journey to help us drive the next wave of growth."
Commenting on joining Dezerv as the Head of Business, Chirag Gandhi said, "The investment landscape in India is rapidly changing and it is more crucial now than ever to change our approach to investing. We need an approach that is comprehensive and brings the best of human expertise and technology. At Dezerv, our solution is focused on ownership of performance and superior client service to deliver substantial outcomes." He further added, "Having worked closely with Sandeep, Sahil and Vaibhav for over 13 years in my previous role, I know that there couldn't have been a better team and a better time to build this solution, and I'm excited to partner with them on this journey."
Dezerv is actively hiring across different business verticals to continue scaling its business.The startup is headquartered in Mumbai, and has an office in Bengaluru as well. It recently established an office in New Delhi to expand its presence in northern parts of India.
Courtesy: SNT News
Media Contact
Company Name: Dezerv.
Contact Person: Media Relations
Email: Send Email
Country: India
Website: https://www.dezerv.in